On the beautiful Sunday Morning of October 06, 2013, Royal Riders of Agra gathered to make it another memorable day. As decided, this was a breakfast ride which we organize regularly for early morning short rides. However, it was little different today as the Royal Riders – a group bikers who owns and loves classic and iconic bikes for Royal Enfield was going to meet another group modern and exotic bikes.
Royal Riders- The Royal Enfield owner's club of Agra is an active group and we regularly organizes rides and biking related activities. There are several rides and events those are yet to be shared with our online friends on our website, hopefully we are going to share most of them soon.
Coming to today's ride, it was short ride which was also supposed to launch official Royal Riders Club Gears. Though our group is expanding but special privileges are given only to those who really have the spirit of a rider within. Hence we maintain a core community and the official T-Shirt bearing the club emblem and logo was handed over to riders who are taking charge of various aspect of the club. Remember, while Royal Riders- The Enfield Owner's Club of Agra is open to all Enfield lovers but being a core member is special achievement which is given only after satisfying certain conditions and above all showing the enthusiasm as a Rider.
Early in the morning, all riders gathered at St. Johns Crossing Agra and then had few moments of fun where moments were captured in pictures at St. John's college which is one of the oldest educational institute in Agra. St. John's College, India, is a college of Agra, Uttar Pradesh, established in 1850, now part of the Dr. Bhim Rao Ambedkar University, earlier known as Agra University. It is amongst the oldest and one of the most beautiful Christian colleges in India.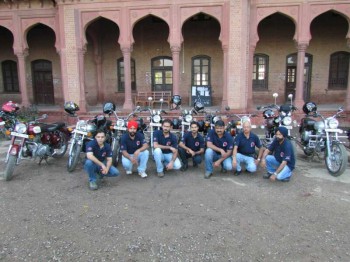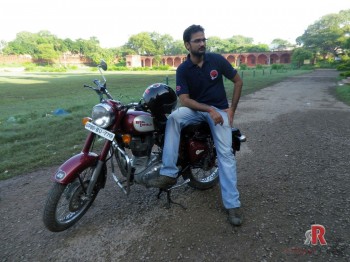 It was decided to meet "The Gentlemen Motorcycle Club of Agra" at petrol pump near Kuberpur , this group was waiting for us with their exotic bikes and this the moment where classic met the exotic. The first reaction of that group after seeing us was that they are glad to see so many biking enthusiast together in the city.
After few moments everyone was ready with their fuel tank loaded, air pressure checked and charged with spirit of riding , everyone moved towards the Yamuna Express way which is one of its kind in whole country.
This ride was full of fun, since there were so many variation in bikes, including BMW, Harley Davidson, Intruder and more, there were many stoppages, there was no fix rule but yet everyone was enjoying the ride. We saw these exotic bikes zooming on Expressway and then beautiful thump of Royal Enfield Rider's creating the beautiful music along the way. Wherever we had halts, we were point of attraction, we have seen this before but when Classic and Exotic is together, the aroma was different. We took breakfast in small groups as we were so many together.
Finally the the ride was concluded and we all had joyful moments on beautiful Sunday Breakfast Short Ride. We are thankful to all who joined us including various members of "The Gentlemen Motorcycle club of Agra". I hope they also enjoyed our company.