The scorching summer of India has gradually set in, in its full glory, albeit a little later than normal. Which translates into, the end of riding season in Northern plains.
Saby who is responsible for organizing our club's "Heritage Rides" very aptly chose "Chand Bowli" as our destination for the last brunch ride of the season.
Our ride to this 9th century step well, would give us both the experience of the dry summer of Rajasthan, as well as help us understand the foresight of the erstwhile King Chanda of the Nikumbh dynasty who built this exquisite 13 storied structure, a masterpiece of rain water harvesting, to provide dependable source of water for his subjects.
Chand Bowli is located in the Abhaneri village in the district of Dausa in Rajasthan, between Agra and Jaipur on NH 11, some 160 kms from Agra and 95 kms from Jaipur. The name was supposed be Abha-Nagri (city of brightness) when it was originally conceived by the Gurjar pratihar king Samrat Mihir Bhoj. In mythology, samrat Mihir Bhoja is presented as King Raja Chand. However, with time this changed and the place came to be known as Abhaneri.
The Chand Baoli is said to be the most ancient step well built around 800-900 AD. It is also considered to be the biggest and deepest (65 feet) step well in the world. Raja Chanda (King Chanda) of Nikumbh Dynasty dedicated it to Harshat Mata (Goddess of dynasty) whose temple was erected right besides this well. While the fine filigree and carvings of the temple was plundered by invaders, the step well has been preserved like new, which tells a lot about the architectural skills of era.
The road from Agra is a four lane highway, with scarce traffic, which makes for a trouble free ride all the way. As we started early morning at 6:30, we stopped for breakfast at Shere Punjab eating joint in Fatehpur Sikri (the ancient capital of India during the reign of Akbar).
By 10:15 am we reached our destination, and were greeted by our ASI approved guide Vijay Kumar. He took us through the main entrance way known as "Bara-Dari" (a hall with 12 doors). As we approached the actual well, we were mesmerized by its Pyramid shaped steps which were placed in flawless geometric patterns and its vastness. The step wells were a part of necessity of medieval India, they were built to harvest and store rain water from monsoon and to use later dry seasons. The steps around well allows people to reach water easily with varying water levels. They not only served as water reservoir but also as social gathering point as move towards the bottom, the temperature declines significantly.
The well has three sides covered with criss-crossing steps while one side with three story structure consisting of Jharokha and balconies. It is said to be used by Royal Family while other three sides were for common people. Step well is surrounded by square structure where you can find various remains from ruins and past.
There are total 3500 narrow steps which goes approx. 100 ft deep. Clearly the well is no longer used and is preserved by ASI ie. Archaeological Survey of India. Sadly, now they have barricaded the steps, but it appears in past tourists were allowed to go down.
The place is filled with ruins of Harshat Mata temple, those are very well crafted and you can clearly imagine their splendid day when was not ruins. ASI has preserved many around Chand Bowli as well as you can see others in the temple nearby.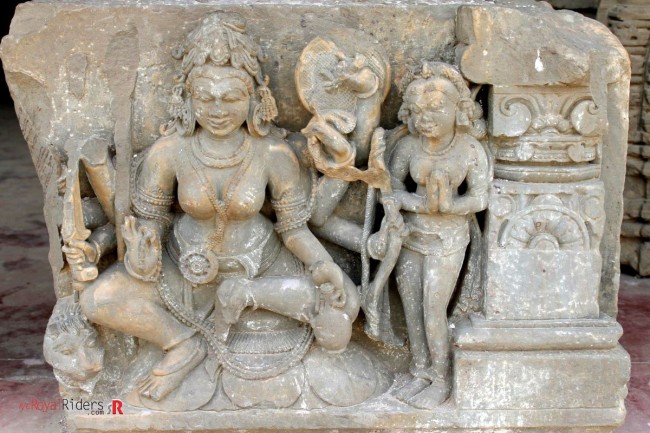 It was a single day Ride on our Royal Enfields, and it was worth visiting this place. However, its suggested to visit it during September to March, otherwise one should be prepared to face the wrath of sun which hinders the joy this place offers. Though we wanted to stay longer there but it was unbearable heat and we also had to ride bike for around 2-3 hours.
There were small glitches like breakdown in bike of a new member Abhishek which was tackled well by seasoned riders. We were also joined by visiting Chinese tourist who were quite happy to see a Motorcycling group. For a while the focus shifted from the place to our discussions on the two countries.
And finally the awesome Riders posing for camera at this historical marvel.
And ofcourse their awesome RIDE – Royal Enfields.
Thanks for reading, if you have any suggestions to improve this write-up then feel free to use comment area below. Remember, you can always find us on Facebook, Twitter, Instgram. Stay tuned for more riding stories on Royal Enfield. If you are looking for more pictures from this ride then please see the Gallery
Picture courtesy : Mohisn Hasan, Sabya Sachi Ghosh and Mohit Chauhan