This is IInd part of our Exploring Madhya Pradesh on Royal Enfield. I will try to make this one brief as there are many previous rides to be documented.
Continuing from part 1:
After leaving from that small water body, the road to Garhi Padawali was almost non-existing, riding through patches, holes and rough terrain, we finally reached Garhi Padawali which is actually an old Vishnu temple later was named into Garhi and since it is surrounded by Hills, hence Garhi Padawali. This temple was built by Pratihara dynasty of the 10th century A.D., the fortification around it was built by the Jat Ranas of Gohad in the 19th century.
As you enter, after walking for few meters, you will see a large stairway leading to the main temple with two giant statues of lion as if guarding the temple. It was a nice few infact instead of going to main temple , we spent a good time here on staircase and was greeted nicely by those Lions. As per information available, the entire fortification had collapsed. While one lion at the entrance had broken into three pieces, another lay in two pieces. Archaeological Survey of India (ASI) did restoration of both mantapa and the fort in three years. So what we are seeing here was already ruin but now significantly restored.
However, this I think I was in trouble as I had lost the keys of my bike and there was no spare key with me. I took a good time to find key but it was no gain. Anyhow, decided to explore the place and shall look out for key or other solution later, though it took away significant part of enthusiasm out of me as I was constantly looking for keys all over place.
Once you enter the temple, whole place is covered with outstanding thousands of miniature sculptures. As per ASI (Archaeological Survey of India), the panels depicted Surya, the sun god, riding a chariot drawn by seven horses and holding sunflowers in his hands; Dasavatara, the 10 incarnations of Vishnu; erotic sculptures; scenes from Krishna's life, including a gopika churning butter in a big pot, Krishna fighting the bull Kesi, and Devaki suckling infant Krishna; and Siva flanked by four-headed Brahma and Vishnu holding a conch, a chakra, a gadha (club) and a padma (lotus) in his four hands; and Vishnu seated on Garuda.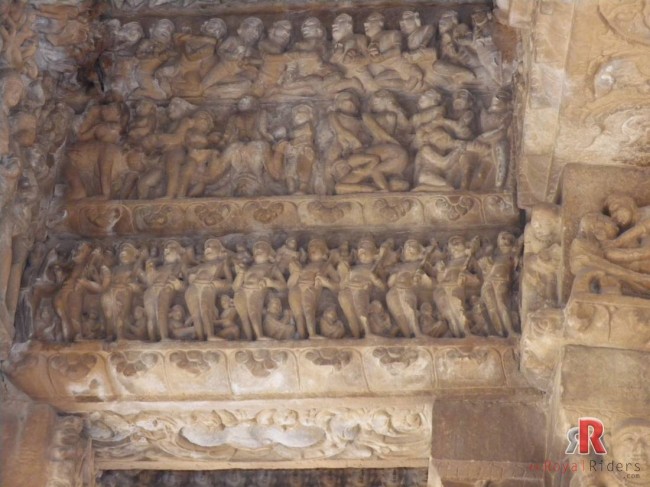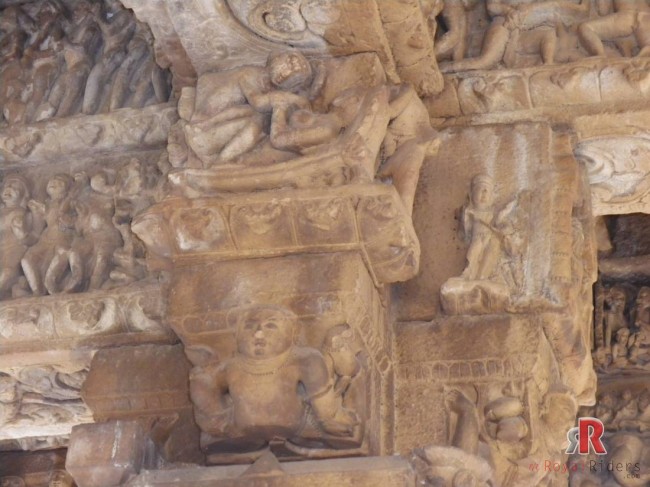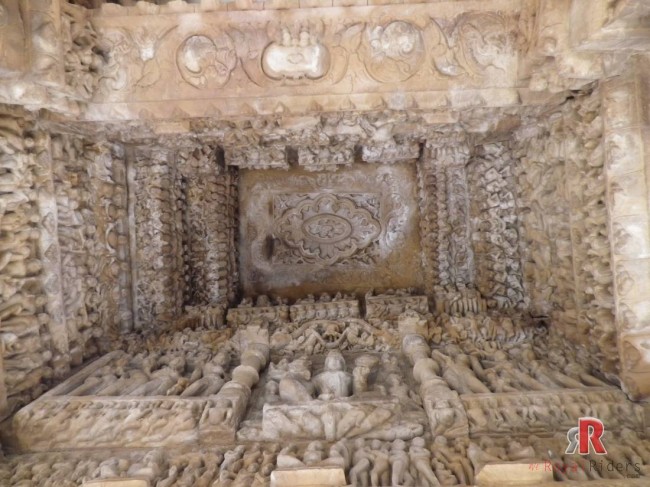 It was quite a sight and infact we have plan to revisit this place once more restoration has been done. After seeing the jaw-dropping carvings and sculptures, we explored this place further.
We saw some ancient time's artillery remains, an ancient underground warehouse which is now filled with water and scenic views. A very peaceful place.
We then decided to leave for our next stoppage, however, magically I found my keys placed on my bike's seat, that's surprising , its there for 2-3 hours and no one took it. I am yet to find who played that gag with me. :)
The Mitavali Temple in the north of Naresar
Unaware what we are going to see as we had not done any specific homework before visiting this place, we were heading towards some greenery and small mountain in front of us.
Through a rocky pathway , not very steep , we reached the last spot where we can take our bikes and from there took staircase and reached the top of this small mountain and to our surprise, found large circular structure standing still and silent. It was nice view actually and yes we are at Mitvali temple. Though people say Sansad Bhavan design is inspired by this Temple but as per further findings, it appears to be coincidence but that is not the point of discussion here.
I found a nice link explaining more about Mitavali Temple, it says :
For Hindus, the divine centre is Shiva-immovable and Omnipresent.This is depicted in Mitawali's architectural metaphor of an open,round verandah,containing sixty-four cells, encircling the circular platform, topped with a circular temple housing the Shivling.According to Dr.J Chowdhry,a scholar on the subject,sixty four represents the number of manifestations of Shakti embracing Shiva,to form intersecting circles(Tantric Sricakra).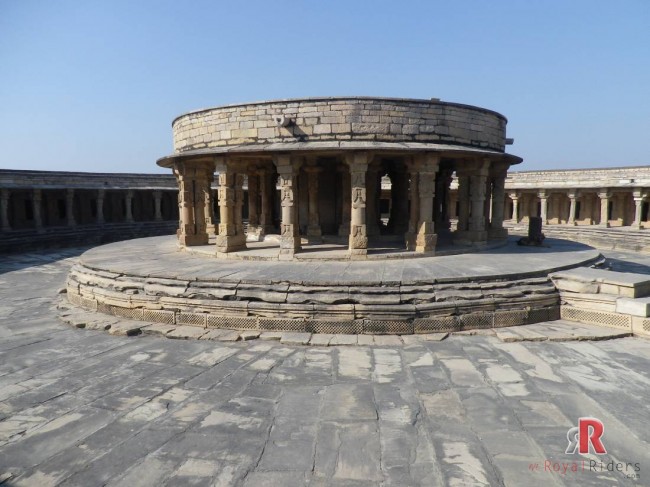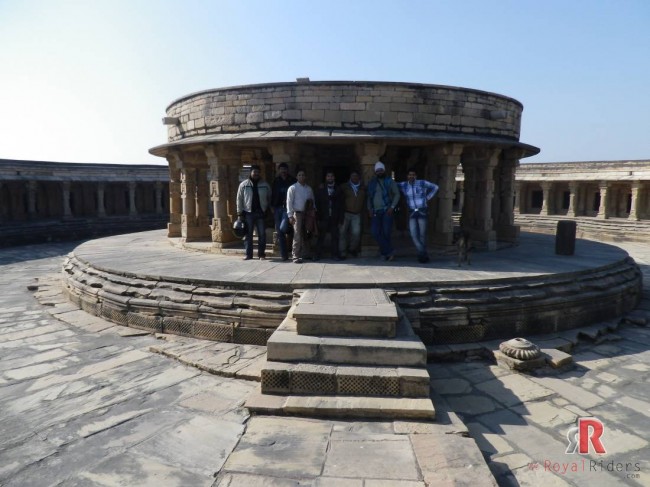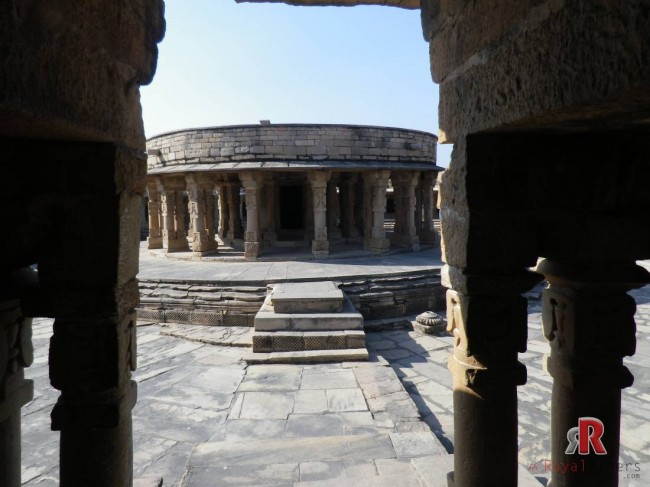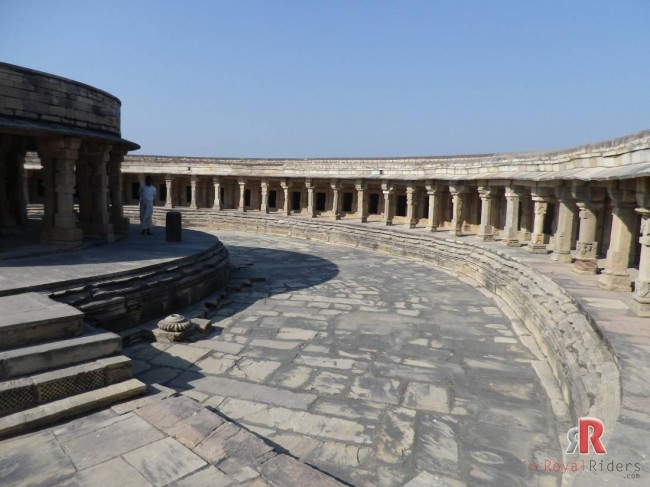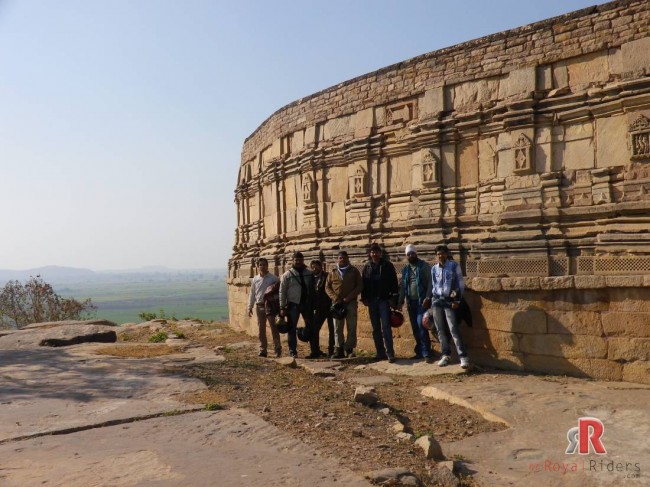 It was all silence inside the temple. Outside temple we were able to spot to Hawks which is a rare sight now.
After taking rest and exploring it , we moved again moved our next destination. However, it is always easy to move up but going down sometimes becomes little harder. Mohit and Mr. Rajesh parked their bikes to highest possible area then taking them down, Riders were bound to help each other.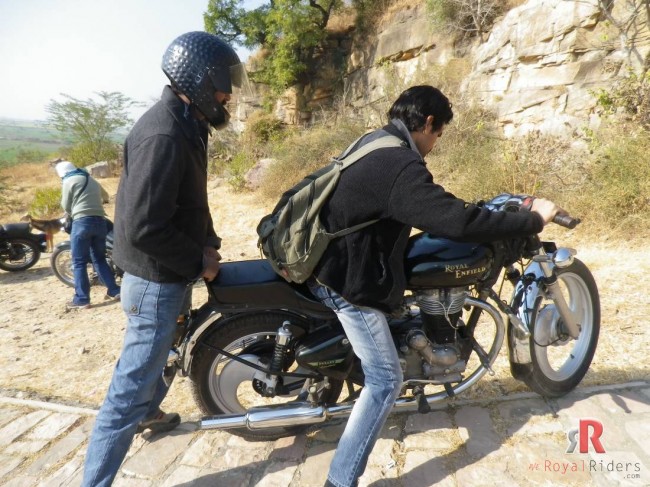 The Bateshwar Group of Temples
As per MP tourism, Bateshwar , 25 km from Morena town, is an archaeological site comprising about 200 ancient shrines in Morena district in Madhya Pradesh. This site is located on the north-western slope of a range of hills near Padavali, a village about 30 km from Gwalior. The shrines of Bateshwar temple-complex are dedicated mostly to Shiva and a few to Vishnu. The temples are made of sandstone and belong to the 8-10th century CE. They were built during the reign of Gurjara-Pratihara Dynasty, 300 years before Khajuraho temples were built. The cluster of temples is spread over an area of 10 hectares in the ravines of Chambal. The Archaeological Survey of India team led by K.K. Muhammed started excavation works in 2005. which are still continuing. Presently sites of Padavali or Padawli and Mitaoli are being excavated, where one temple each has been discovered till now. A temple cluster at Dodamath in the same place is also being excavated. The ravages of time and earthquakes had destroyed these forgotten temples.
On our way to Bateshwar Temple, we found small structure, we stayed and was calm nice place raised to height of around 45 feet. Not sure what was the name of structure but definitely a small nice one.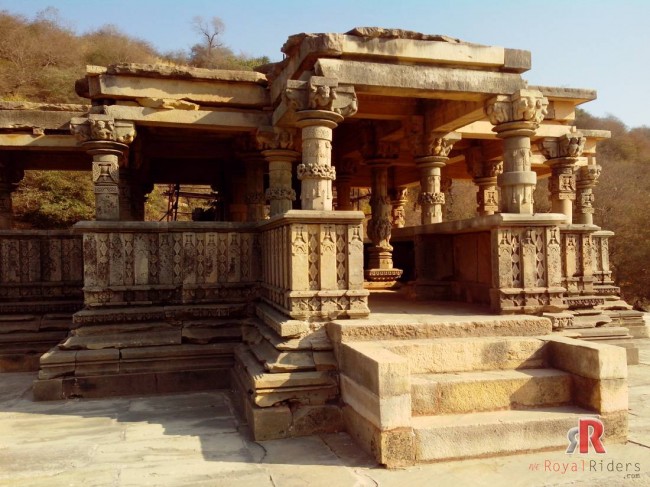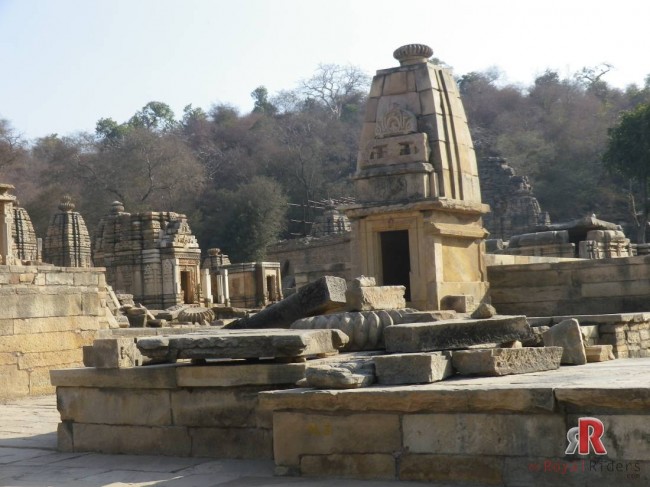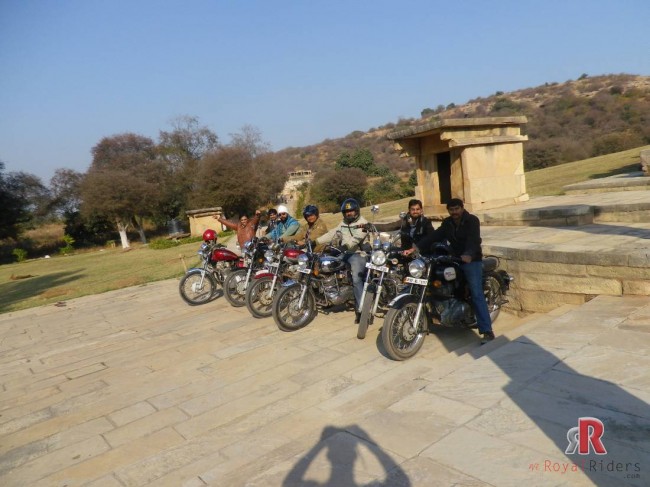 The Bateshwar Group of temples was still under renovation / reconstruction by ASI, we were able to see many workers over there. However, it would have been really spectacular sight when all these temples were in their original state.
Giving a brief visit , we again started for our next destination without knowing that something very unexpected is coming next and we are going to witness a lots of exciting events in few coming hours.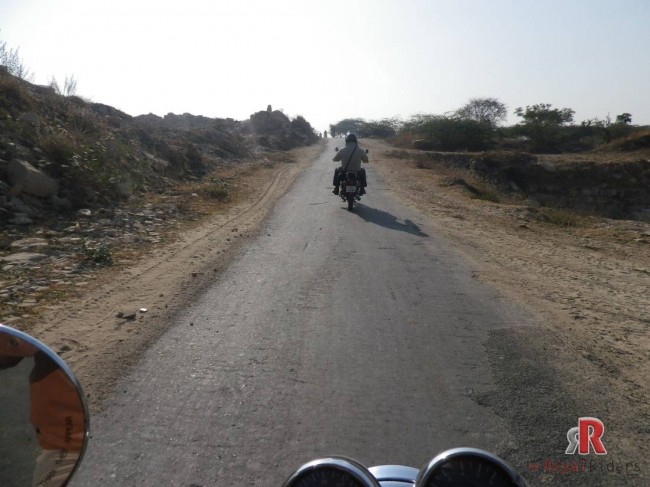 So here, goes our first surprise, it was Mr. Harsh who got flat tyre in his bike.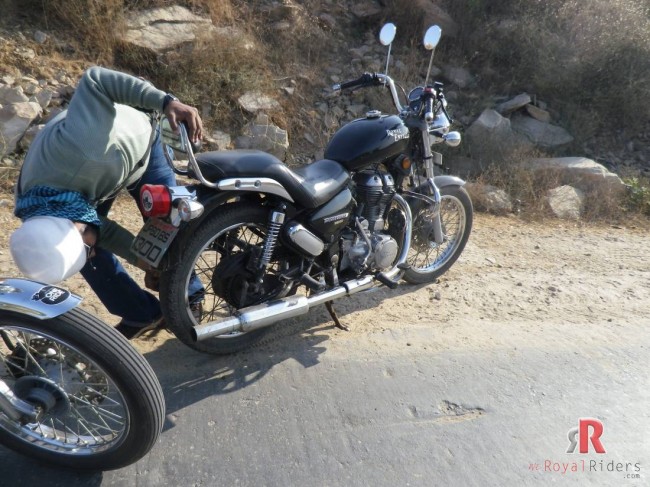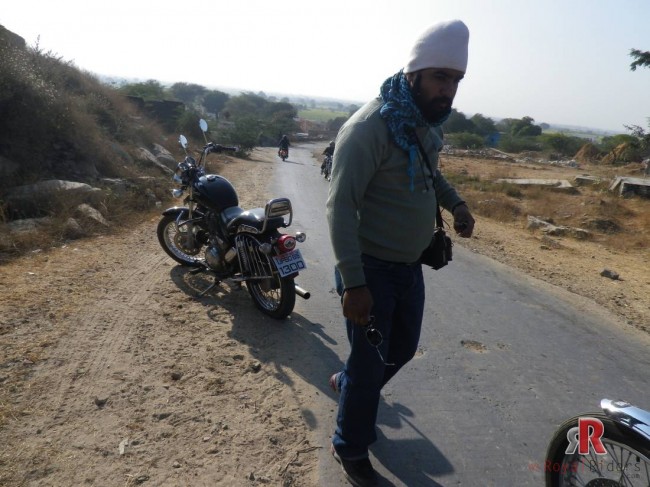 We were almost middle of nowhere because as far as we remember, we were hours ride away from any residential area. However, after walking for few minutes, we found outskirt of a village but to our surprise, there was no help here , everyone was asking us to go to Morena. So, we decided to make 3 teams, one team to stay with bikes and two other teams to go for search of help. After being jumping- jack for many hours, we finally found the help .
However, if you notice, its been already 3-4 hours , yes it took around 4 hours to arrange for help. Anyhow, its all well when ends well. Meanwhile there were series of incident while we were looking for help. Infact for villagers, we were surprising elements as lots of Bullets (thats what villagers knows Royal Enfield as) were riding too and fro. Even few goon looking of kind of people stopped few of our members when they were passing alone, I was also asked to stop by some but I decided to ignore them. Hope you remember, this part of MP had a very violent past because of dacoits and goons in 1980-90s. Incidentally, we came to know that there were some voting in this part of MP and was recalled due to some firing and attempt to influence people on the gun point. Apparently villagers were looking at us as part of some Security forces and hence they were paying special attention to our movements. We even saw some suspicious kind of people hiding away from us. So, those few hours were hectic for us and pressure had started building upon.
When we had Harsh's bike fixed, we again headed towards our next stoppage, however by now were all were very hungry and exhausted but there were no sign of any dhaba , roadside hotel or anything and I think las we saw was again many hours back,  it was clear we will not get proper food, we bought some biscuits and strange looking sev and marched towards Shanichara Mandir.
The Sanichara Mandir, Murena near Gwalior
The Shanichara Temple is about 37 kilo meters from Morena en route to Banmore (NH3) Aiti Village. The Shanichara Temple is about 18 kilo meters from Gwalior en route to Padhavali, Bateshwar and Mitaoli. The Shanichara Temple made of stone at Aeti is rather special, though it doesn't appear so from the outside. It houses the original black idol of Shani brought from Lanka (presently Sri Lanka). Legend has it that Shanideva was held prisoner by the demon-king Ravana (king of Lanka), in the Hindu epic Ramayana. The dusty village of Aeti came into being only after the temple was established. Earlier it was just a barren hilltop dotted with a few trees .
As per information found, there are few regular rituals which attracts many thousands of worshiper at this temple.
A Grand Prayer Organized On Every Saturday
A grand puja (prayer) is held here every Amavasya Shanivar (moonless Saturday night), which has devotees thronging to the temple in droves. Special narrow gauge trains operate from Gwalior, Agra, Jaipur, Baroda and some other cities to bring devotees to the temple.
The Statue of Hanuman
Just outside this stone temple is a statue of the monkey-god Hanuman. It depicts Hanuman with a dagger tied to his waist stepping on another monkey. A very curious practice is observed here: worshipers leave behind their shirts and shoes or have their hair cut in the belief that any curse that might have been cast on them will disappear along with their locks.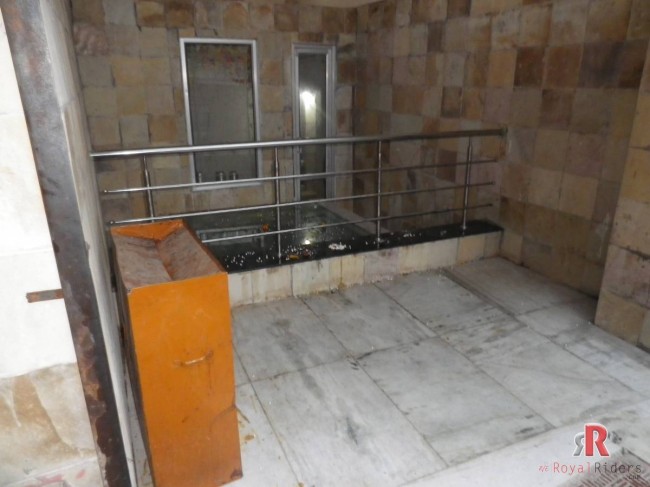 So, finally we had completed our ride with some glitches but that was not it. Something was still waiting for us and it was already too dark. We were riding though almost uninhabited area, were sure that it will take few hours ride to reach the highway, suddenly there was Mr. RaviKant Tiwari , one of rider asked to stop, he complained his bike is having issue with rear brakes, rear wheel was not working properly.. And we all were like.. God.. what now ! After everyone one by one tried to fix it, it was concluded that his bike can't move, his real was completely jammed has support bolt was broken. After tinkering with bike in 100% darkness, we decided to get a ride for bike. However, there was no one and those who were passing by were afraid of us as they were only able to see bunch of people in dark, sitting by road. Few were hesitant to pass even.
Then a generous guy stopped, he was native of that place, after explaining situation to him, he offered to bring a Taxi driver from nearby village, two riders went with him and returned with Mahindra Commander (not sure). Then on its back side, we tried to load the bike of RaviKant Tiwari, however, there was not enough space on its back because it was made take as much as of passenger but not goods.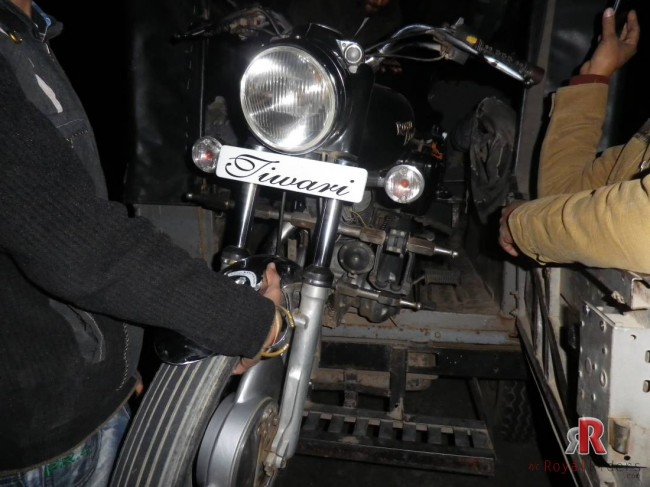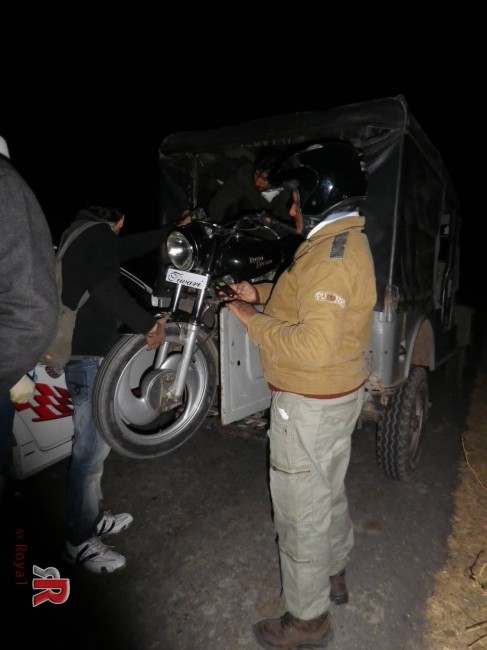 Again so much of effort but no gain. Then finally we asked him to leave and started to make another strategy, this time a passenger autoriksha driver stopped and he understood our situation. He offered help, he actually unscrewed its last seat and after around 40 minutes of effort, he was able to make space for the bike. Now again the task of uploading bike to the AutoRiksha started. Now we had task to not to break anything and upload this 300Kg + bike to the at vehicle.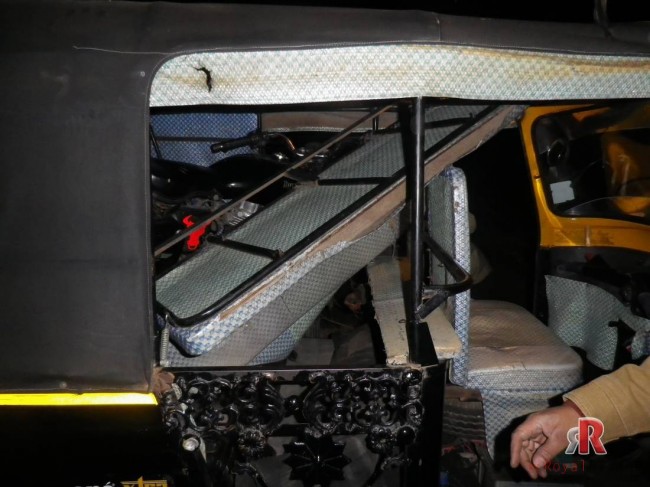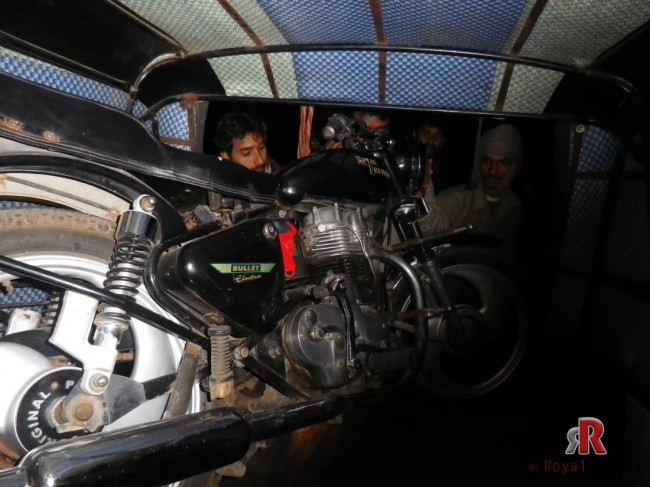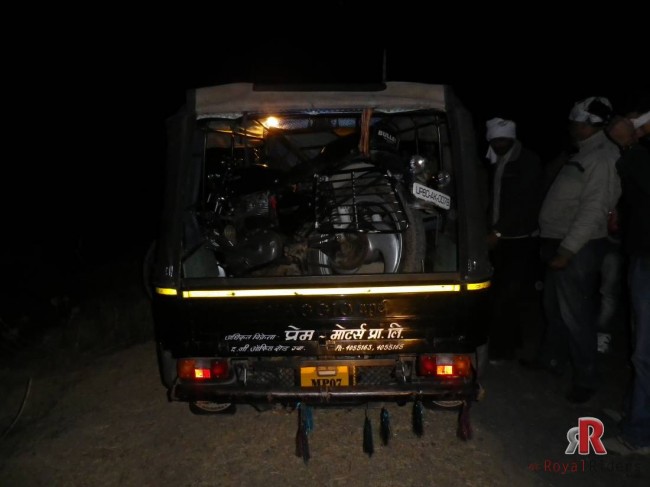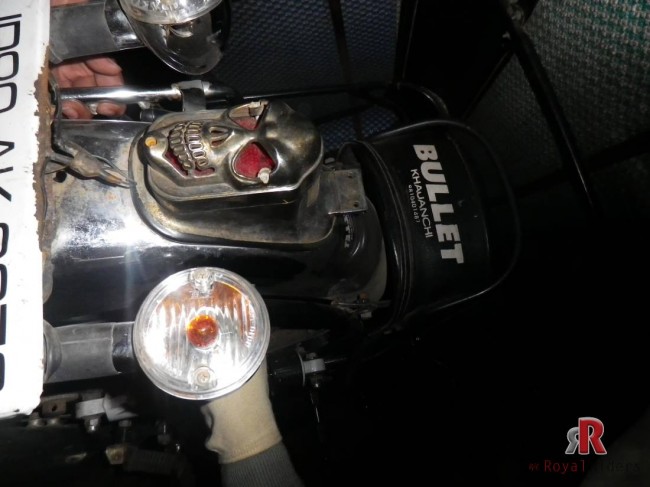 And finally it was inside the vehicle. He then brought bike to nearby highway and we found a shop where we dropped the bike as spare parts required to fix bike was not available there.
So, this summed up our one day ride to MP- Morena ruins, was quite a fun. We had done so much thing in so little time, it was really a stress test for us. But it was not over yet, since we had planned to return before sunset, we were not prepared for the chilling wind at night, so then started almost never ending ride back to home through the chilling wind. It was so chilling that when we all returned home, our leg bones were almost frozen. Even in the morning, most of us was able to feel the chill of that ride. It was almost non-stop adventure for continuous 16 hours without any breaks.
I hope you enjoyed reading as much as I enjoyed while drafting it. Hopefully you will see many more rides being documented. If you have any question or doubt or finds any error then please let me know. You can also Discuss this ride in our COMMUNITY.